The Hellenic
Religion of the
Dodecatheon
The Basic
Principles of the
Hellenic Religion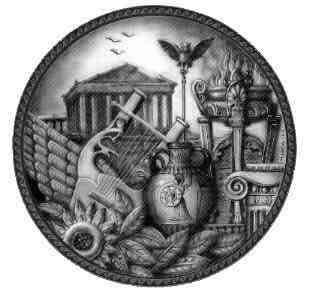 SOCIETAS HELLENICA ANTIQUARIORUM
---
The Helliniki Hetaireia Archaiophilon (Societas Hellenica Antiquariorum), is a non-profit private organization, based in Athens-Greece, dedicated to the revival of the traditional Hellenic religion of the Dodecatheon (Twelve Olympian Gods and the Pantheon of Demons and Heroes). This religion has survived as an underground faith for many centuries. We think that time has come that it be resurrected at its homeland.
The organization offers activities to its members every evening, dealing with the traditional Hellenic religion, Hellenic philosophy (Pythegorean, pre-Socratic, Platonic, Stoic, neo-Platonic etc), our Holy Mythology, as well as scientific lectures, symposia, public discourses and social activities. Above all, we practice our rituals and worship the Gods, in the traditional manner.
The main problems of Hellenic Pagans are: 1. Our religion is not recognized officially by the modern Greek state. 2. The mystic tradition of our people (Eleusinian, Kaberian, Delphian etc) has been interrupted.
Please visit the new and official site of the Societas Hellenica Antiquariorum.

---
Frequently Asked Questions on the Hellenic Religion
Hellenic Paganism An Overview by Aias
---

Back to Top
---