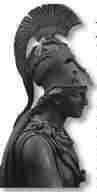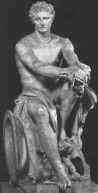 How and why does Man worship the Gods?
The worship of Gods and Goddesses differed greatly from place to place and from time to time. Hellenic antiquity cannot be viewed as uniform in this respect. Nevertheless, there were some standard characteristics of cults, throughout. A very important one is that there has never been any antagonism among Gods (or their priesthood), for a special sacred place. For instance, Delphi is the well known sanctuary of Apollo, but other Gods co-exist in peace, within the sacred field, namely Gaia, Dionysos, etc. Exactly the same happens in Olympia, the Acropolis of Athens, Eleusis etc.
Another interesting aspect is the change, over time, of the principal divine personality of sanctuaries. This has led some investigators to believe that older cults were expelled by newer ones, in a conflictive manner. The truth is that cults represent the level of spirituality of local societies and reflect their needs for communication with the Divine. The Divine needs no worship, Man needs to worship God. So, as the social structure evolved, its problems evolved and the Gods they worshiped changed.
The cult of Heros is a well-known aspect of the Hellenic religion. The Hero-Poliouhos was the very particular divine figure of each City, at the first level of divinity. Heros were place-specific, and dwelled at their tumb, communicating with the local people and acting in their favor. In all hellenic City-states heros were revered, e.g. the homeric Aias Telamonius, Aias Locrus, Theseus, Cecrops among others in Athens, all figures having offered much to their fellow-citizens. They were honored annually with enagismata, libations and athletic contest, within the setting of a solemn festival.
The Olympian Gods were honored all over the Hellenic world and farther than that. It has sometimes happened in the historic era, that a heroic cult evolved into a godly cult; this has been the case, for instance, with Hercules, Asclepios and others. This fact reflects the recognition by the people, of the evolution of divine persons, within the Higher Worlds. Gods were honored with sacrifices at several occasions, the year round. Such sacrifices could be bloody or not, in accordance with the occasion and the local custom. There was always a solemn festival with cyclical ball-dance.